Audio Streaming

Audio Streaming
audio streaming
Shoutcast / Icecast Audio Streaming
Full featured radio / audio streaming system for online DJs or radio stations.
Web Based Panel
Live streaming radio, AutoDJ with easy browser based uploads
Available Audio Systems
Shoutcast v1, v2.5, v2.6 and IceCast
Robust Playlist Manager
Create playlists, reorder tracks on the fly without interrupting listeners
Radio Dashboard
Radio broadcasters and online DJs will enjoy their own panel with amazing features.
The panel provides everything your audio clients need to succeed with audio streaming.
The panel includes full AutoDJ, Shoutcast v1, v2.5, v2.6 and IceCast features.
Our SSL solution provides free SSL (HTTPS) to all radio versions, even SCV1 has SSL with our panel.
Our audio panel has the most advanced playlist manager:
Simply drag & drop tracks to change the play order of a playlist,
A browser based drag & drop MP3 upload system for fast uploading.
Edit track metadata (full ID3V2) and play immediately.
Edit playlists without dropping any listeners.
Music Library
The music library allows your radio clients to create their own album folders and upload mp3 files to the folders by using drag & drop multi upload system on the same screen. The mp3 files then drag & drop from the center list to the left side on the playlists to add them into playlists. Powered fully by JQuery and Ajax.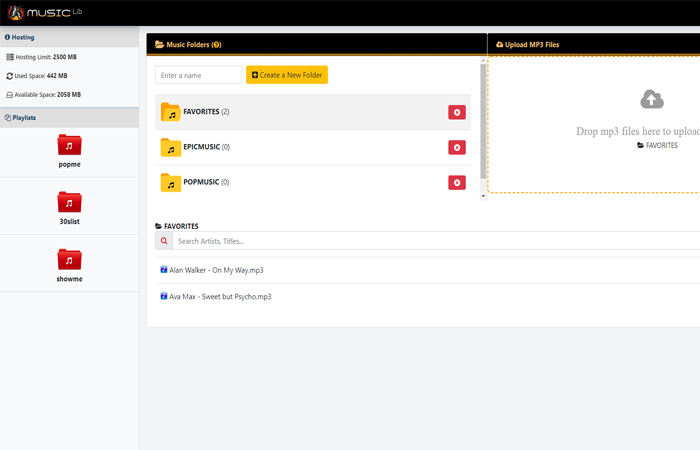 Pricing
Affordable Audio Streaming Plans!
Small
Up to 64 kbps Bitrate

100 Concurrent Listeners

10 GB Storage
100 GB Monthly Bandwidth
Medium
Up to 128 kbps Bitrate

250 Concurrent Listeners
20 GB Storage
250 GB Monthly Bandwidth
Large
Up to 192 kbps Bitrate

500 Concurrent Listeners

30 GB Storage

500 GB Monthly Bandwidth