Business Email

Business Email Hosting
Powerful business email
Standalone Business Email Service
Powered by SmarterMail, a replacement for the cumbersome and over-priced Microsoft Exchange products and services. It's a full-fledged alternative with the same protocols (MAPI, Exchange Web Services, ActiveSync, IMAP and POP) and the same features of Exchange without the cost and complexity, removing the need for dedicated IT management.
Awesome Webmail Client
Access your email, contacts, calendars and tasks from any web browser in the world!
Popular Protocols
MAPI, Exchange Web Services, ActiveSync, POP and IMAP available.
Video Teleconferencing
Support up to 8 participants in our live Video Conferencing system included!
Robust Webmail Client
Compatible with all major desktop and mobile web browsers, using the webmail client eliminates the necessity of any other software, from email clients to calendar apps, freeing up disk space and system resources, and eliminating the maintenance tasks that come from having more software installed on laptops and personal computers.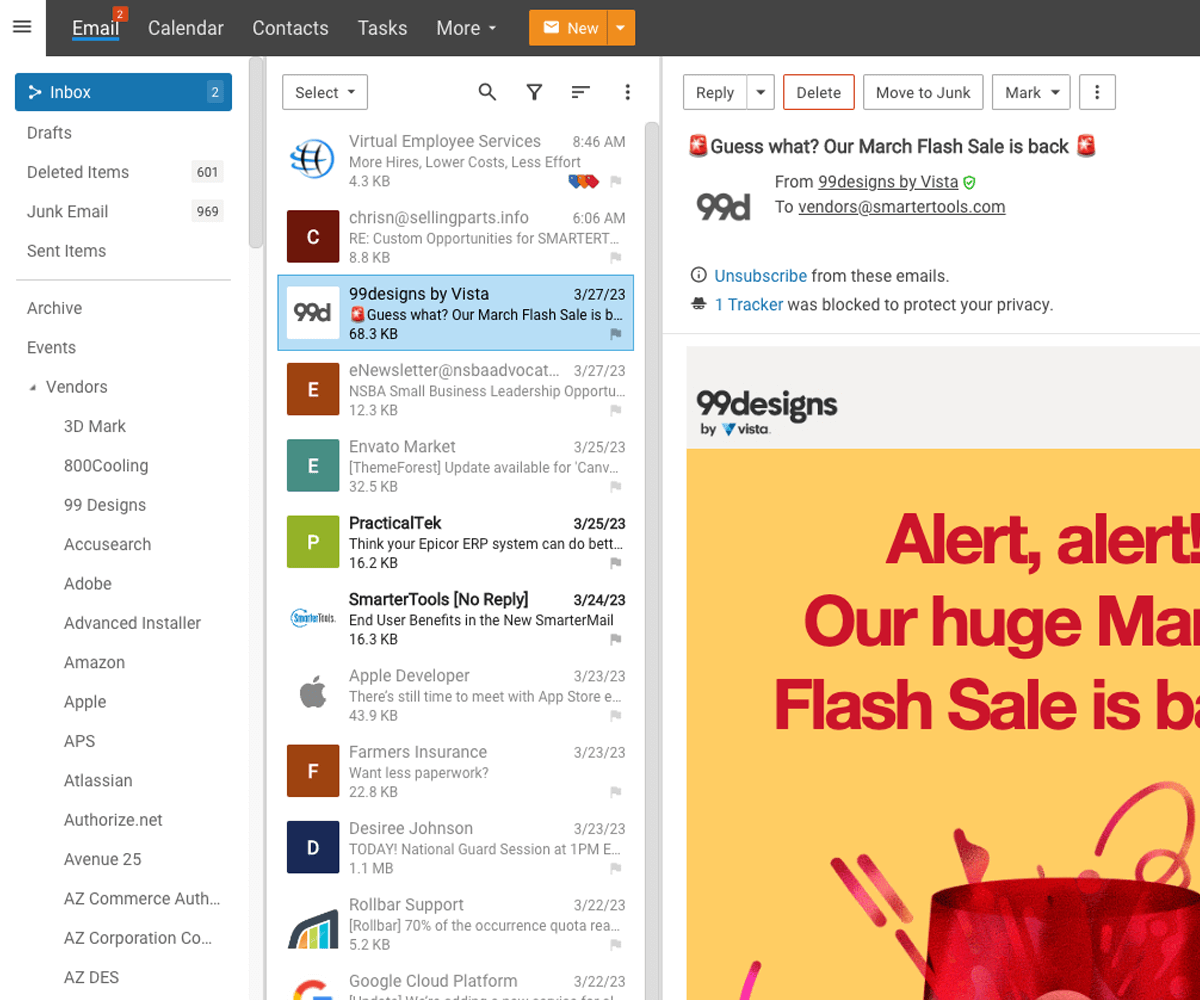 Email Clients on Any OS
With support for all major email protocols, including IMAP, POP, EAS, EWS, WebDav, and MAPI, you have your choice of desktop client: Outlook for Windows or MacOS, Apple Mail, Windows Mail, eM Client, Thunderbird, Gmail, Spark, Mailbird, and countless others!
In addition, SmarterMail is the only Windows mail server on the market, outside of Exchange, that offers native support for MAPI as opposed to offering Outlook plug-ins that simply mimic Exchange features. This makes SmarterMail the perfect alternative to Microsoft Exchange.
Team Collaboration
Our business email offers a number of collaboration features that make it easy to work together with team members, customers, and partners. This includes organizational calendars, conference room scheduling, shared contacts, calendars, tasks and notes, instant messenger, Online Meetings for online conferencing, and much more.
Calendars and Scheduling
Users have access to powerful calendaring features that make it easy to stay connected with both business and personal calendars, either in their favorite desktop or mobile client or in SmarterMail's webmail interface. These features include:
Select a default calendar view (daily, weekly, monthly or all appointments)

Show task start and end/due dates

Specify working/business hours

Create rules to auto-clean old calendar entries

Free/Busy scheduler with attendee availability

Create/manage recurring events
BUSINESS EMAIL pricing
Our business email product is an Exchange equivalent with lower costs and additional robust features not seen with Exchange!
MAPI, EWS, IMAP and POP




ActiveSend Option

Tight Integration with Apple Mail
Tight Integration with Outlook
Contact Management
Calendar Sync and Sharing
Video Conferencing
Live Inter-domain chat
Starting From
Per Mailbox, Minimim $10/mo.